Existing Rad Retailers: we'll need those orders in a bit earlier than usual this year. The global supply chain is not particularly fun at the moment, and we need to ensure the gloves actually arrive in time for glove season. So this year's wholesale ordering deadline is Friday, April 2. Remember that we don't require a down payment or prepayment until the gloves are ready to ship to you, so this is more or less a risk-free ordering process. So please get the orders in ASAP! Contact us here if you didn't receive the email we sent out with updated line sheets and...
---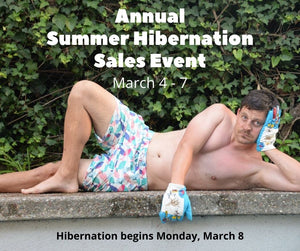 Last chance for gloves until the fall. We'll keep it short and sweet. The Freakiest of all Freezy stores will officially enter Annual Summer Hibernation mode on March 8, meaning all gloves will be out of stock starting this Monday until the fall.Should you be bold enough to buy gloves before then, you deserve a $10 discount per pair using this code: HIBERNATE2021Happy hunting!
---
Missed out on gloves earlier this winter? Here's your second chance! The bad news: holiday season 2020 turned into a giant shipping debacle.The good news: that debacle resulted in a lot of packages being returned-to-sender, and that means we now have gloves back in-stock that were previously sold-out! So if you missed out on something before the holidays, here's a second shot! After this batch goes, that's all until next winter. The full collection of everything that's currently in-stock can be found here:Freezy Freakies Originals CollectionHopefully we've got the pair of gloves you've been waiting for. Happy hunting!
---
We know many of you have not yet received your packages this season. We're very sorry for that. We know what this disappointment feels like at the end of a tough year, and we want to be proactive and transparent about the current situation at USPS and our warehouse, along with our plan to try to fix what is still a pretty big mess. Unfortunately we don't have all that many resources to work with. We're a tiny business - just two of us - on a mission to make cool products that make people smile. So when we see those smiles go away...
---
Order by Midnight 12/14 for a Christmas Arrival  Not gonna sugarcoat it. The shipping situation right now is a little crazy (guessing you've noticed???). On top of that, we're also starting to run low on gloves!So this year we're going out waaaayyyy earlier than usual with this Last Call for Xmas Shipping!!!!Please please PLEASE get those orders in by midnight tonight (Monday 12/14). We fully expect/plan/hope any packages ordered by then to arrive by Christmas. And what about orders placed after Dec. 14? We actually expect most of the gloves we ship later this week to also arrive in-time for Christmas. And that reflects USPS' guidance...