Summer is here (for us at least)! While spring may have just recently sprung, we like to push the envelope around here, so we've already activated our Annual Summer Hibernation Mode. This means all gloves are now out of stock until the fall. [sad face] Next season's glove lineup (including some new gear) will be back in-stock in October. Please sign up to our totally rad mailing list if you want first dibs & discounts as soon as they're released!: Freezy Freakies back in-stock email list Until then, Stay Freezy and sleep well this summer! 
---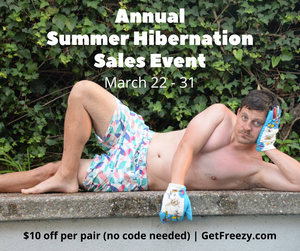 All this warm weather is making us sleepy, so this Totally Official Freezy Freakies Store will begin its annual hibernation on April 1. That means you've got until the end of March to get yourself some of these rad gloves, or else it could be a very long and very unfreaky wait until the gloves are back in-stock this fall.But value shoppers, rejoice! Our gloves won't get any cheaper than they are right now. They're $10 off per pair until our store hibernates on April 1. No discount code needed. Giddy-up!
---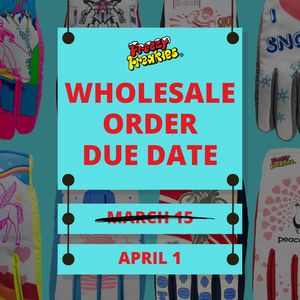 Rad Retailers: we've pushed the wholesale order due date back a couple weeks to April 1st. But no foolin' this time...this is the real order-by date. Get those orders in ASAP! Remember, no advanced payment required until the gloves are ready to be delivered in October. For now, we just need to know what you want! So fill out those line sheets and get them back to us (and please reach out if you didn't receive the updated line sheets via email!).  More wholesale order info is available here: Freezy Freakies | Wholesale Info 
---
Existing Rad Retailers: Another year, another unpredictable supply chain. Fun fun! Last year we played it safe and moved up our wholesale ordering deadline to a super early mid-March date that gave us plenty of leadtime, and since that ended up working out great in terms of on-time merchandise deliveries, we're sticking with that plan for this year's orders! So this year's deadline for wholesale orders is Wednesday, March 15. Remember that we don't require a down payment or prepayment until the gloves are ready to ship to you in October, which more or less makes this a pretty risk-free ordering process. So please get those orders in...
---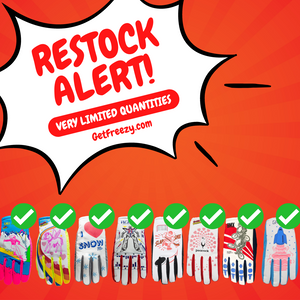 Our annual restock event is here! Sold out? Not anymore, we're not. We've just released all of our remaining reserve stock. So in case you missed out on a pair earlier this season because it was sold-out, this is probably your last chance of the winter to grab it: Freezy Freakies | All Gloves  Some of the quantities available are extremely limited though! And once this stock is gone, that's probably it until next fall. So no dawdling!:Freezy Freakies Originals Collection