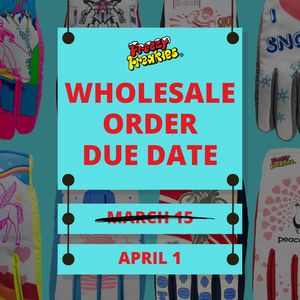 Rad Retailers: we've pushed the wholesale order due date back a couple weeks to April 1st. But no foolin' this time...this is the real order-by date. Get those orders in ASAP! Remember, no advanced payment required until the gloves are ready to be delivered in October. For now, we just need to know what you want! So fill out those line sheets and get them back to us (and please reach out if you didn't receive the updated line sheets via email!).  More wholesale order info is available here: Freezy Freakies | Wholesale Info 
---
Existing Rad Retailers: Another year, another unpredictable supply chain. Fun fun! Last year we played it safe and moved up our wholesale ordering deadline to a super early mid-March date that gave us plenty of leadtime, and since that ended up working out great in terms of on-time merchandise deliveries, we're sticking with that plan for this year's orders! So this year's deadline for wholesale orders is Wednesday, March 15. Remember that we don't require a down payment or prepayment until the gloves are ready to ship to you in October, which more or less makes this a pretty risk-free ordering process. So please get those orders in...
---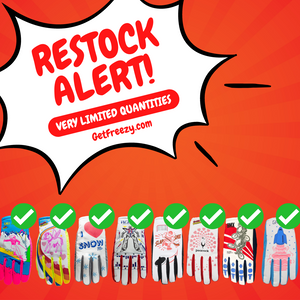 Our annual restock event is here! Sold out? Not anymore, we're not. We've just released all of our remaining reserve stock. So in case you missed out on a pair earlier this season because it was sold-out, this is probably your last chance of the winter to grab it: Freezy Freakies | All Gloves  Some of the quantities available are extremely limited though! And once this stock is gone, that's probably it until next fall. So no dawdling!:Freezy Freakies Originals Collection
---
Below is our guidance regarding shipping times for this holiday season. So far this season, deliveries have been pretty reliably on-time, which is a good sign. But we've seen these shipping situations take turns for the worse pretty rapidly (hello, Shipageddon 2020!), so the best and only advice we can give is: please please please don't wait until the last minute!  Standard Shipping option General info and timing: Our standard class of shipping is USPS First Class, and it costs $5 for one pair of gloves and is free for orders of $49+. Our warehouse is currently shipping the vast majority of packages in 0-2 business days. USPS is then...
---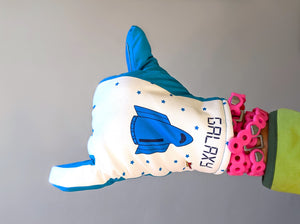 Super rad holiday promo deets We've got a bunch of discount tiers (plus a new one!) that make those Freezy Freakies gifts even more of a no-brainer: Buy 1, Get 1 @ 25% off (code 25OFFSECONDPAIR) Buy 2, Get 1 @ 50% off (code BUYTWOHALFOFFTHIRD) Buy 3, Get 1 Free (automatically applied at checkout) NEW! Buy 4, Get 1 Free + 2 Free Neon Pink Infinity Tools (automatically applied at checkout, 11/18-11/28) How do you get in on this Infinity Tool promo? Just load up 5 pairs in your cart and complete checkout by Mon. 11/28. That's it. We'll automatically include two of these neon-pink Infinity Tools in your package. And of course, we'll...