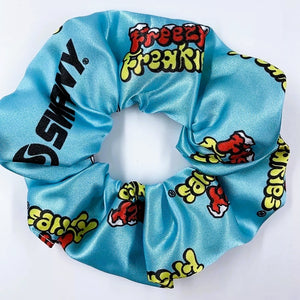 Just a quick update that the Freezy Freakies scrunchies we included as part of our Black Friday Promo are currently in the mail to everyone who qualified for the offer. They're breathtakingly beautiful (evidence below). Unfortunately, we're unable to sell these separately. Sorry! 
---
Not gonna lie, last holiday season was paaaaainful. The Freezy Freakies world got hit with a fistful of Shipageddon, and there were a number of folks whose Christmases we ruined who wanted to hit us with a fistful of actual fists. And despite it all, we managed to persevere and make it to this holiday season! Phew! #smallwins That brings us to this year's inevitable Shipageddon 2.0 v2 Part Deux... This holiday season we've (hopefully) learned our lesson and find ourselves better prepared. We'll begin with the best and only advice we can muster: please please please don't wait!  Standard Shipping option Need it...
---
• news
Freezy Freakies is getting into the hair business (sort of) Only three things in life are certain: Freezy Freakies are pretty rad Scrunchies are pretty rad Free things are pretty rad So we're combining all three into this pretty rad3 Free Freezy Freakies Scrunchies promo, now through Cyber Monday 11/29.In addition to the normal free pair of gloves that's always included as part of our season-long Buy 3 Get 1 Free deal, we're also throwing in a limited-edition Freezy Freakies scrunchie. Eeeek! OMG!!!!  So like, what does this scrunchie even look like? Great question! Since our samples went missing somewhere in the shipping ether, we've turned...
---
• news
Dear Rad Readers, Freezy Freakies are officially restocked and ready for ya! Thanks for your patience throughout our much-needed 7+ months-long hibernation.  New (old?) for this season I spy with my little eye.... A Peacock A familiar-looking I Love Snow design...but wait a second, is that a glove?! So what's new is basically hearts...and a whole lot of 'em. What's not new this season? Even though it seems like everyone else has gone ahead and jacked up their prices on us, we're still sticking with the same prices and big discounts and free shipping setup as last year. Call us traditionalists.In terms of...
---
• news
Wondering where we've been? Our annual summer hibernation, of course. But alas, the weather has turned and folks are wondering where the raddest gloves of all-time have gone, so we'll be lifting our annual hibernation shortly and unleashing a bevy of Freezy Freakies goodness upon the world very soon. How soon? Well, subscribers do get first dibs & discounts in case you'd like an email as soon as they're back in stock: Sign up for Freezy Freakies rad emails