Missed out on gloves earlier this winter? Here's your second chance! The bad news: holiday season 2020 turned into a giant shipping debacle.The good news: that debacle resulted in a lot of packages being returned-to-sender, and that means we now have gloves back in-stock that were previously sold-out! So if you missed out on something before the holidays, here's a second shot! After this batch goes, that's all until next winter. The full collection of everything that's currently in-stock can be found here:Freezy Freakies Originals CollectionHopefully we've got the pair of gloves you've been waiting for. Happy hunting!
---
We know many of you have not yet received your packages this season. We're very sorry for that. We know what this disappointment feels like at the end of a tough year, and we want to be proactive and transparent about the current situation at USPS and our warehouse, along with our plan to try to fix what is still a pretty big mess. Unfortunately we don't have all that many resources to work with. We're a tiny business - just two of us - on a mission to make cool products that make people smile. So when we see those smiles go away...
---
Order by Midnight 12/14 for a Christmas Arrival  Not gonna sugarcoat it. The shipping situation right now is a little crazy (guessing you've noticed???). On top of that, we're also starting to run low on gloves!So this year we're going out waaaayyyy earlier than usual with this Last Call for Xmas Shipping!!!!Please please PLEASE get those orders in by midnight tonight (Monday 12/14). We fully expect/plan/hope any packages ordered by then to arrive by Christmas. And what about orders placed after Dec. 14? We actually expect most of the gloves we ship later this week to also arrive in-time for Christmas. And that reflects USPS' guidance...
---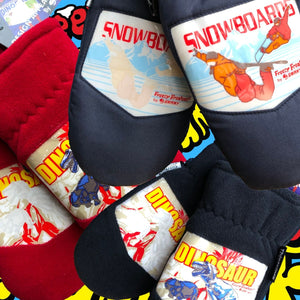 Update (Dec. 2 @ 5:37pm ET): This promo offer is now over, since we have officially run out of gloves from our old school stash.   We offer deals galore all winter long. If you haven't checked out our Discounts page, please start there. Our discounts range from free shipping to free pairs of gloves, depending on how big you go.  But for this Black Friday we're offering a pretty fun, totally unique deal. Earlier this year we scored a pretty big stash of Freezy Freakies from Swany's final production run (i.e. the last set of "old school" Freezy Freakies ever made). We'd initially offered them up to our followers for a limited...
---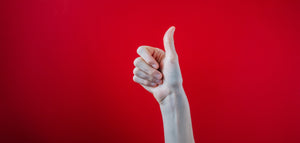 Our summer hibernation has offically come to an end, we've officially restocked the raddest glove store ever. Thanks for being patient!  You may recall that 2019 undoubtedly represented our raddest glove lineup to date. But... This year, the radness meter has cranked all the way up to 11 with these two classics we've brought back for 2020: Slap Shot This must have been a seriously popular one back in the day, because hockey fans have been asking for it ever since we brought Freezy Freakies back. Instead of dropping the gloves and going skate-to-skate with some hockey fans, we gave in...