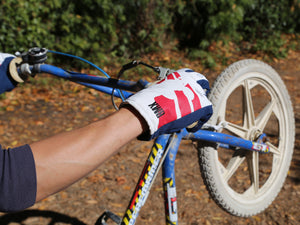 Those BMX classics are back again! BMX biking really came into its own in the '80s. Popping wheelies, hitting makeshift wooden ramps to catch 8-10 inches of air, riding on each other's pegs, and if you were really really really good, showing off that mediocre bunny-hop whenever your friends were watching. The coolest of the cool kids rode in the winter too. And the coolest of the coolest of the cool kids? Of course they were wearing the raddest winter biking glove ever created.  So we're super-duper pumped to (re)introduce our #1 most requested new (old) design: BMX Freezy Freakies! This is another glove we brought...
---
• news
Freezy Freakies Are Back In Stock: A Poem, by Freezy Freak Our summer hibernation was long and wonderful. But recently we've been feeling a bit of a chill. So we awoke, realizing cold hands would soon need to be warmed in a totally awesome way. So the raddest gloves of all-time are officially back in-stock.  Hopefully this poem does such epic news proper justice.But let's be honest. It doesn't. No poem can.Except for maybe a good one.</poem> All of last season's gloves are back in-stock here: https://getfreezy.com/collections/all And stay tuned, because next week we're dropping a totally new (old) one!
---
• news
Good news that the temps have started dropping, and that means we start waking up! Our summer hibernation will be wrapping up at the end of October, and all our gloves (plus a new release) will be back in-stock then. Sign up here in case you'd like first dibs and discounts when they're back!: Freezy Freakies back in-stock email list Can't wait to get the gloves back in-stock! 
---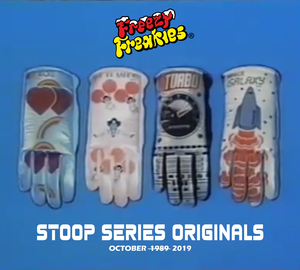 As you might imagine, we've collected a pretty choice little stash of original '80s-era Freezy Freakies. And while the collection is nowhere near exhaustive since Swany made hundreds of different designs back in the heyday (some of which are almost certainly lost forever!), it's still a pretty solid collection, and now we're going to share it all with you. Just follow our Instagram or Facebook accounts (@FreezyFreakies) for all the goodness. More details below, and hope you enjoy! Coming at you in October: Stoop Series Originals! Time to get all warmed up (read: cooled down) for the upcoming Freezy Freakies season! Each day for the month...
---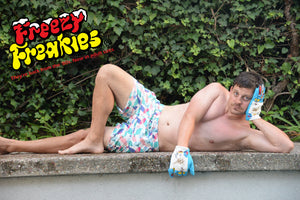 May 1 - This store hibernates for the summer. Most of our styles ended up selling out again this winter because you folks are Freaking rad. Instead of disappointing all you rad visitors with a totally-unrad, slim-pickings storefront, we'll be taking this store offline on May 1 for some much-needed R&R over the summer until we can replenish our stock. So consider this the last call to get your Freezy Freak on this spring! Don't worry, we'll be back in the fall with everything in stock and some brand-new (old) gear too.  Pro tip: since we seem to be the...