It's officially summertime for us! Yeah, we know spring may have technically just begun, but since we like to push the envelope around here, our store has already activated its Annual Summer Hibernation Mode. This means all gloves are now out of stock until the fall. [sad face] Next season's glove lineup (including some new gear) will be back in-stock in October. Please sign up to our totally rad mailing list if you want first dibs & discounts as soon as they're released!: Freezy Freakies back in-stock email list Until then, Stay Freezy and enjoy the summer! 
---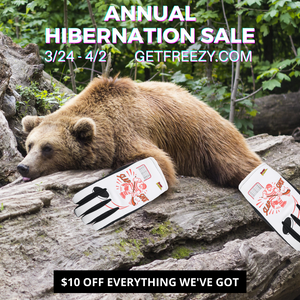 On April 3rd, our store begins its annual hibernation, and we won't awaken until the fall collection has arrived. What we're saying is: if you want some Freezy Freakies, now's your last chance! And they're not gonna get any cheaper: all gloves are now $10 off until April 2! No discount code needed. Wanna bang out that holiday shopping in March so you can rest easy and join us for a quick 6-month nap? Do it. Double dog dare you. Selection is limited and will only get moreso, but we still have some stock in most of our extremely rad styles: Slap ShotBMXPeacockFighter JetI Love SnowRobot
---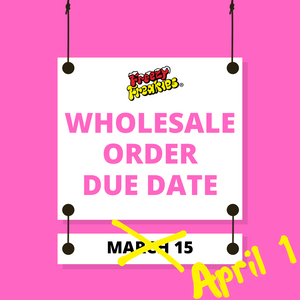 Rad Retailers: we've pushed the wholesale order due date back a couple weeks to April 1st. But no foolin' this time...this is the real order-by date. Get those orders in ASAP! More wholesale order info is available here: Freezy Freakies | Wholesale Info 
---
  Existing Rad Retailers: due to all this global supply chain mayhem (I mean, fun), we'll need your orders placed even earlier this year. So this year's wholesale ordering deadline is Tuesday, March 15. Remember that we don't require a down payment or prepayment until the gloves are ready to ship to you, which more or less makes this a pretty risk-free ordering process. So please get those orders in ASAP! Contact us here if you didn't receive the email we sent out with updated line sheets and ordering info.New Rad Retailers: yes, we're definitely adding more brick-and-mortar shops again this year and we'd...
---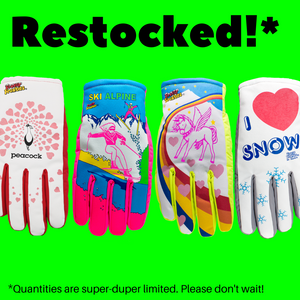 Good news for anyone that missed out on gloves earlier this winter...we just restocked very limited quantities of most of our sold-out styles! Worth a look to see if that pair you missed out on is back in-stock now: Freezy Freakies | All Gloves  But please don't delay! There are only very small quantities available, and this is everything until next fall.  All available gloves can be found here: Freezy Freakies gloves