• news
  Infinity Tool holiday promo The Infinity Tool might be the most useful invention since the joystick. For this year's holiday promo (Buy 4 Pairs + Get 1 Free Pair + 2 Free Neon-Pink Infinity Tools), we had our friends at MODL Outdoors take their infinitely useful strap and custom-build them for us in neon pink (obviously). Just load up any 5 pairs in your cart and check out by Mon. 11/28, and two of these custom neon-pink straps will be headed your way, along with the world's raddest gloves. More promo info here: Infinity Tool holiday promo So what exactly does this strap do? We did...
---
• news
New for Winter '22-'23! This totally-clutch member of the mid-'80s core collection is now back in action and ready for lift-off: Galaxy Freezy Freakies 
---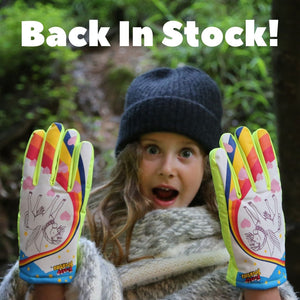 Dear Winter,Nice sneak attack this week. Very crafty. But you know what? We've got a little trick up our sleeve too: Freezy Freakies are back in stock. This means the raddest souls will now be fully-equipped to ward off any future unwanted intrusions of these glorious autumn days.  But do come back and visit us again in a month or two, and you'll be welcomed with open arms and rad hands. Until then, The Freezy Freakies Team 
---
It's officially summertime for us! Yeah, we know spring may have technically just begun, but since we like to push the envelope around here, our store has already activated its Annual Summer Hibernation Mode. This means all gloves are now out of stock until the fall. [sad face] Next season's glove lineup (including some new gear) will be back in-stock in October. Please sign up to our totally rad mailing list if you want first dibs & discounts as soon as they're released!: Freezy Freakies back in-stock email list Until then, Stay Freezy and enjoy the summer! 
---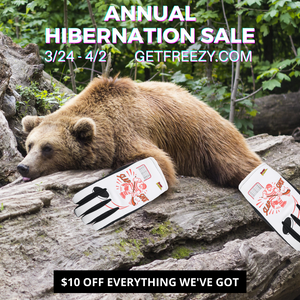 On April 3rd, our store begins its annual hibernation, and we won't awaken until the fall collection has arrived. What we're saying is: if you want some Freezy Freakies, now's your last chance! And they're not gonna get any cheaper: all gloves are now $10 off until April 2! No discount code needed. Wanna bang out that holiday shopping in March so you can rest easy and join us for a quick 6-month nap? Do it. Double dog dare you. Selection is limited and will only get moreso, but we still have some stock in most of our extremely rad styles: Slap ShotBMXPeacockFighter JetI Love SnowRobot